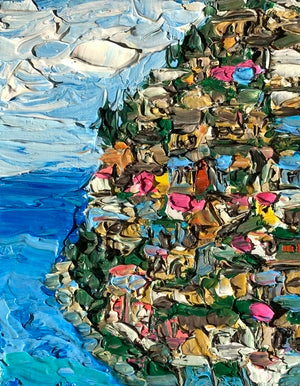 Come See my Newest Works at the Clifton Wine Attic Feb 3 - March 31
Well known artist Vicki Vidal is a featured artist in the upcoming Clifton Wine Attic art Exhibit during the months of February and March. She wrote a beautiful article about the Wine attic for the Clifton Living magazine, and it is featured here. I am honored to be among the several notable regional artists in this show, which is launching February 3. I hope to see you during the Opening Reception February 3 from 2-4 pm.
Artists in the Attic by Vicki Vidal Blum
Virginia may be for lovers, but Clifton is for artists. Whether the artists reside in Clifton or frequent the town for its picturesque historic homes and businesses, winding creeks, and beautiful barns, artists are always welcomed. One place artists feel especially welcome is at The Wine Attic. The Wine Attic is owned by Juan and Renee Navarro who opened it in September 2017. It is located at 7145 Main Street above Villagio.

When you enter The Wine Attic you know there is something special about it. Juan, Renee or one of the crew always greets you with a smile and an extensive knowledge of boutique wines and craft beers. The cozy atmosphere invites you in and keeps you there. Adding to the fun is the likelihood of running into a fellow Cliftonian, making a new friend while tasting a special selection, or experiencing some impromptu guitar playing by Juan and friends.

For art lovers, the Wine Attic gives you another reason to visit. Since its opening, it has hosted many exhibits of local and regional artists. New artists are featured every two months. So, if you haven't visited lately, it's time to come back, pick up a great bottle of wine and admire the February/March exhibit featuring art by Clifton artists. The exhibit runs from February 3 – March 31, 2019 and includes the following artists: 
Diane Crean - Diane is an internationally recognized artist and teacher who enjoys painting in a variety of mediums and styles. Originally from New England, she now makes her home in Clifton.
Lynn Garvey Hodge – Lynn is a watercolor artist well known for her paintings of historic and bucolic Clifton. Her work is often scripturally or spiritually inspired. http://www.artguildofclifton.org/lynne-garvey-hodge.html
Jack Pardue - Jack is a plein air artist with a passionate for landscapes and beach scenes. He captures the luminous color and radiating light that nature offers. http://www.parduestudio.com/about/index.htm
Anne Rust Pearson-Anne has been painting for over 20 years, primarily in oils. Her detailed and realistic work focuses on birds and animal life, landscapes, and familiar Virginia habitats. https://artistsundertaking.com/anne_rust_pearson.htm
Sharon West - Sharon is an impressionist painter with a great love of rich texture and vibrant colors. Her works are created mostly using palette knives that help achieve the impasto style in subjects ranging from florals, to landscapes, to seascapes, animals, and more. She has lived in Clifton almost 30 years. https://sharonwestfineart.com/
Phoebe Twichell Peterson – Phoebe is a landscape painter living in Clifton. She has a studio at the Workhouse Art Center and teaches oil painting there. Many of her images are inspired by the coastal scenes of New England where she grew up. http://phoebetwichellpeterson.com/
Vicki Vidal Blum – Vicki enjoys painting floral still lifes, small watercolor landscapes, and commissioned children's portraits. www.vickiblum.com
Amy Waldrop - Amy's paintings are inspired by her passion for family, travel, and nature. She continues to develop her skill while sharing her intuitive approach to creativity with artists of all ages. https://amywaldropart.com/
Peggy Weed - Farms and farm animals have long been favorite painting subjects for Peggy. She started painting in oils 15 years ago taking classes from the fabulous instructors at the Torpedo Factory.