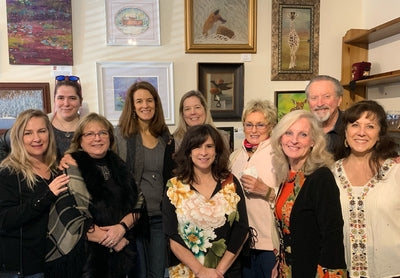 Great Time at Clifton Wine Attic Art Exhibition Launch Party
I had a wonderful time meeting friends and collectors old and new at the Clifton Wine Attic art exhibition launch party! I was humbled to be among so many amazingly talented and award-winning artists displaying and selling my work.
My painting "My Amafi Dream" sold, but I am accepting commissions if you are interested in owning your own Amalfi Coast with my special twist on it. Contact me here to request yours.
Special thanks go to Vicki Vidal Blum, a very talented Clifton Artist who helped organize the event, and Juan and Renee Navarro, owners of the Clifton Wine Attic who graciously hosted the event. 
The art exhibit will run through March 31, 2019, so if you couldn't make it, do stop by when you get a chance. It's a fun spot to taste and purchase wine, beer, spirits, gourmet olive oils and more. Come and enjoy some beautiful art, and spend time with friends. Juan and Renee have gone to great lengths to make the space a cozy hub of the town of Clifton, and it shows! 
The Clifton Wine Attic is located at 7145 Main Street, Clifton VA 20151. You can call them at 703-543-8406. Check out their Facebook page for news and happenings.
Here is a list of artists displaying in the show. If you follow their work, do stop by and see these gorgeous originals in person.
Vicki Vidal Blum
Diane Crean
Lynn Garvey-Hodge
Jack Pardue
Phoebe Twichell Peterson
Amy Bertch Waldrop
Anne Rust Pearson
Peggy Weed
Sharon West