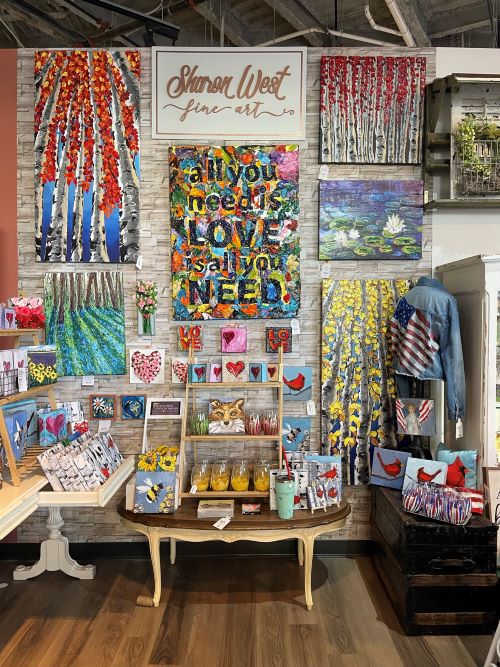 Find my art locally in Leesburg VA
If you'd like to see my art in person locally in between shows, I have displays in two Leesburg, VA shops! I also sell fun items like handmade cards, hand painted denim jackets, stemless wine glasses and other handmade items that strike my fancy! Stop by The Global Local or Lazy Daisy both in the Leesburg, Va areas and see what one-of-a-kind goodies I have for sale. Here are the addresses:
The Global Local
105 Loudoun Street Southwest
Leesburg, 20175, US
571-210-2324
The Global Local is an amazing retail store owned by Tyra Flynn, who lived abroad for nearly 15 years, traveling with the Foreign Service to India, Tunisia, Syria, Dubai, the Netherlands and Jerusalem. At every post, she immediately connected with her community and created memorable relationships at all-in-one, 'town square' shops. Tyra moved back to suburban Virginia in 2018 founded The Global Local with hand-picked partnerships that showcase several of our Loudoun County craftspeople and makers in addition to an array of globally sourced products. I am honored to be one of her curated artists. If you haven't been, GO! You'll be glad you did.
The Lazy Daisy
1601 Village Market Blvd
Leesburg, VA 20175
(571) 291-2172
Leesburg's Lazy Daisy specializes in handmade local artisan goods, art, furniture and home decor. The Lazy Daisy has carefully curated of handmade gifts, gorgeous jewelry and other one-of-a-kind finds, including my art! Stop by and see what's new.