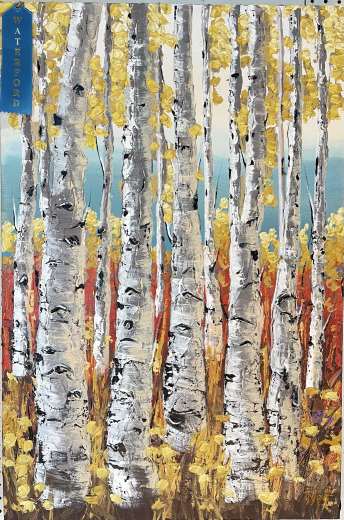 Thrilled to Announce: 1st Place in Acrylics at 78th Annual Waterford Fair
I was so thrilled to learn my painting was selected as the first place winner at the 78th Annual Waterford Fair Fine Arts show. It was even an honor be chosen to participate in this event, which is the mid-Atlantic's quintessential fall festival. This town-wide event features artisans demonstrating heritage & contemporary crafts, including living historians, and of course the juried art show featuring all original art.
I love doing my art demo there, it was fun to share my process with the attendees and get to know them in person after so many years of staying apart.
People are fascinated by palette knife artwork I do. I love using a palette knife because it creates such interesting effects, and of course such amazing texture. 
You can use the edge of the palette knife to create sharp lines, or graze over an area to create another tone effect. 
The bold strokes created by the palette knife create unique artwork unlike some of the more traditional work done with brushes. You can paint on top of wet layers without having to worry about the paint blending, and I love that too. 
If you are interested in learning more about palette knife painting, feel free to reach out to me or comment below.
I am looking forward to the 79th Annual Waterford Fair, which will be held October 6-8, 2023. I hope to see you there