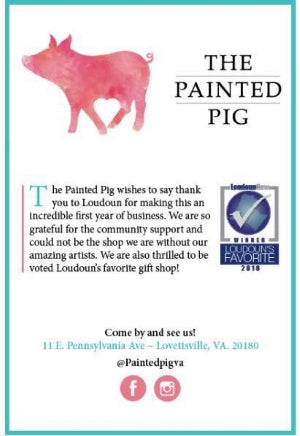 Find my art at award-winning gift shop, The Painted Pig in Lovettesville, VA
This week the Lovettesville, Va. artisan shop "The Painted Pig" was named best gift shop in Loudoun County. I'm so happy for my friends Denise Berg and Scottie Vosburgh who conceived the idea of an artisan-only gift shop to showcase handmade items only - a great departure from the cookie-cutter retailer. Denise (who loves pigs) and Scottie (generally covered in paint) are two long-time friends with a "collecting problem" that wanted to bring together a community of artists for a unique shopping experience. When the historians with the Town of Lovettsville mentioned the street was formally called "Pig Alley", The Painted Pig was born.
I'm so happy to be counted among the amazing artists who supply the shop with their wares. If you are ever in the vicinity (and even if you are not!) it's worth the trip! Only open Thurs-Saturday (and other days by chance!) so plan your trip with that in mind.
Saturday 10 a.m. - 4 p.m.