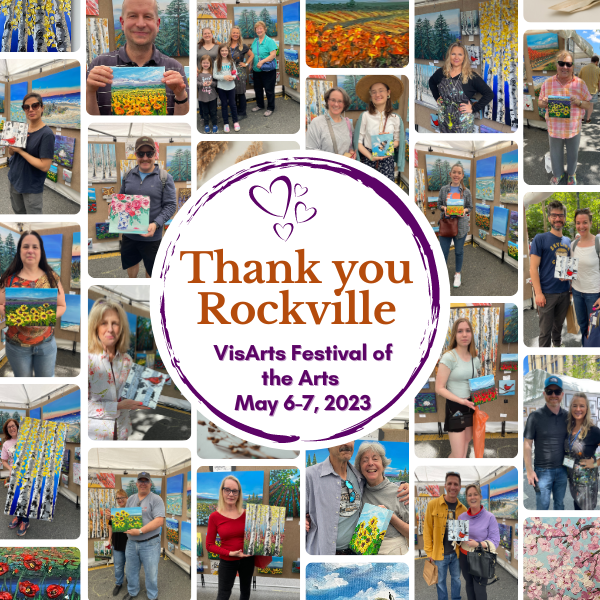 Rockville's 2023 VisArts Fine Arts Festival was a blast!
At the Rockville VisArts Fine Arts Festival, I had the incredible opportunity to showcase my unique style of art to a wonderful audience of art enthusiasts and collectors. As an artist specializing in impasto palette knife techniques, this festival was the perfect platform for me to share my passion with the fine folks of Rockville and the VisArts community.

As with most live shows, I try to demonstrate my process live.  I had the pleasure of explaining my process to curious visitors. With each stroke of my palette knife, I created textured layers to demonstrate how the palette knife creates marks you cannot achieve with any other tool. The impasto technique I use allows me to sculpt and shape the paint, adding depth and dimension to my pieces. During the show, I demonstrated how I built up layers of paint, using the palette knife to create bold and expressive textures. It was incredibly rewarding to see the fascination in people's eyes as they witnessed the transformation of a blank canvas into a vibrant, textured masterpiece. Many people came back to my booth during the day to see how far I had progressed. And, as often does happen, a couple came by and purchased the piece right off my easel!

Engaging in conversations about my techniques and the emotions behind each piece was a highlight of the festival. I shared the inspiration that drove me, the way the interplay of light and shadows guide my hand, and the emotions I sought to evoke through my art. The enthusiasm and appreciation from the attendees were wonderful.

The Rockville VisArts Fine Arts Festival provided a supportive and encouraging environment for artists like me to showcase our talents. It was a celebration of creativity, where art lovers and creators alike gathered to be inspired, moved, and touched by the power of artistic expression.

If you missed it, please consider visiting my booth at my next show: The Old Town Alexandria Fine Arts Festival May 20 - 21, 2023 at 300 John Carlisle Square in Alexandria VA. Hope to see you there!